Overview
As an expert and leading manufacturer of Bus Air Conditioner in China, TKT Busthermo has been supplied to YUTONG, Golden Dragon, Yaxing, Ankai, Neoplan, Hengtong, Shenlong, Foton and Nanjing Golden Dragon ect main bus manufacturer in China, and also do OEM to TATA Motor (Fortune 500 Company) , TATA Marcopolo, Daewoo, Isuzu, MAZ, INCARVEN, MODABUS, GET ect bus manufacturer in the world. Those rich experience and over 20 years of market verification prove that TKT air conditioner is trustworthy.
TKT Electric Bus Air Conditioner Exclusive Advantages
1. OEM/Customized System Acceptable;
2. Patent System Design to Guarantee Super Cooling for Tropical Climate;
3. Inner Screw Copper Tube & Hydrophilic Alu. To Guarantee 12-18 Years Life Time;
4. Lower Weight, Lower Power Consumption;
5. Fresh Air Available;
6. Customized CAN Control Acceptable;
Learn More About Advantages in Detail
TKT Electric Bus Air Conditioners Models
Product Model
Application
Cooling
Capacity
Voltage

160E
Learn more

A/C for 6-8M
Electric Bus
16 KW
(54K BTU)


(Heating is optional)

DC280-750V

260E
Learn more

A/C for 8-10M
Electric Bus
26 KW
(88K BTU)


(Heating is optional)

DC450-750V

420E
Learn more

A/C for 10-12M
Electric Bus
42KW
(143K BTU)


(Heating is optional)

DC450-750V

550ED
Learn more

A/C for
Double Decker
Electric Bus
55KW
(187K BTU)


(Heating is optional)

DC450-780V

60V~400B
Learn more

A/C for 6-14M
Diesel Bus
6 KW~40 KW
(20K BTU~ 136K BTU)


(Heating is optional)

Engine Driven
TKT Electric Bus Air Conditioner Overview
PS: OEM project for other length EV bus is available!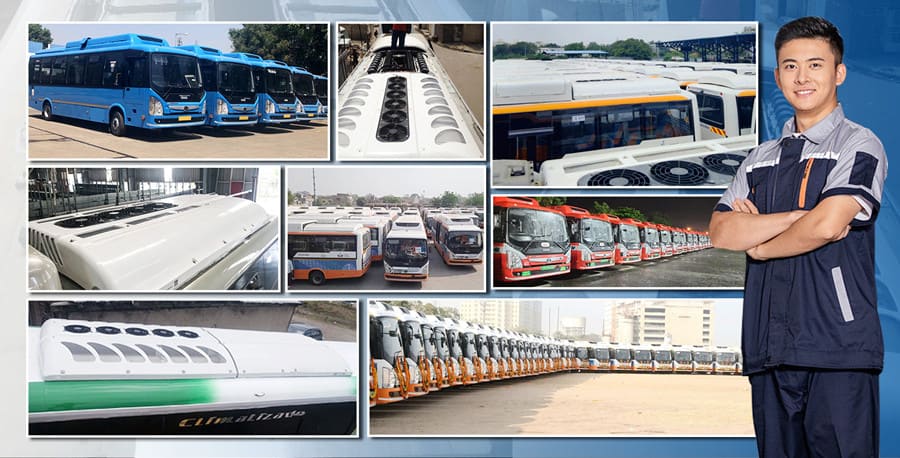 Click for More Cases (Load HD Pictures, Wait Patiently)
Welcome to be Our Customers / Partners / Dealers:
You will get the following benefits.
1. Longer lifespan: more than 30% longer than low-end air conditioners
2. More stable operation: 45 degree outdoor temperature still stable operation
3. Factory sourced pricing
4. Customized OEM service
5. (Click to learn more benefits)
Click to see more customer visit
About TKT HVAC
The leading commercial vehicle air conditioner manufacturer in China! TKT has a team of 135 engineers including design engineers, structural engineers, electrical engineers, test engineers, EMI/EMC engineers, and after-sales engineers, and has complete design, development, and testing capabilities for vehicle air conditioners and parts. With more than 210 patents and CE, EMI/EMC certification of main products.