Double Decker Electric Bus Air Conditioner
Overview
TKT-550ED is designed for double-decker buses and powered by the battery pack of electric buses.
As an expert and leading manufacturer of Electric bus A/C in China, TKT Busthermo has been supplied to YUTONG, Golden Dragon, Yaxing, Ankai, Neoplan, Hengtong, Shenlong, Foton and Nanjing Golden Dragon ect main bus manufacturer in China, and also do OEM to TATA Motor, TATA Marcopolo, Daewoo, Isuzu, MAZ, INCARVEN, MODABUS, GET ect bus manufacturer in the world. Those rich experience and over 20 years of market verification prove that TKT air conditioner is trustworthy. Currently we mainly provide rooftop all electric bus ac E-series for 6-12meters bus, suit for DC250V-DC750V bus input.
Exclusive Advantages:
1. Designed 6 Condenser Fan to Guarantee the Fast Cooling even Ambient Temperature is more than 45 Deg. C
2. Adopting R410A Refrigerant to Achieve Super Cooling
3. Exclusive Design of Condenser Coil Structure with Design Patent to Get More Heat Release Area but Using Less Material
4. Running in China for 5 Year with ZERO Failure Rate
PS: OEM project for other length EV bus is available!


550ED Specification Table
Cooling Capacity
55 kW (187K BTU)


Heating is Optional

Compressor
Japan SANYO 80.5 cc/r
Refrigerant
R410 A/7 KG(On-site Filling)
Condenser QTY/Air Flow
6 PCs/14400 m³/h
Evaporator QTY/Air Flow
(6 PCs+3 PCs)6000 m³/h+3000 m³/h
Power Supply/Rated Power
High-voltage Power Supply:DC450 V-780 V
Control Power Supply:DC24 V/10 A
Dimenssion
Condenser and Upper Evaporator:2000*750*1405 mm
Lower Evaporator :800*600*833 mm
Weight
Condenser and Upper Evaporator:320 KG
Lower Evaporator:36 KG
Product Standard
GB/T21361-2008(A/C for Automotive)
&TB/T1804 2003(A/C for Railway Coach)
Safety Reference Standard
CJ/T 5007 Technical requirements for trolleybuses
CJ/T 5008 Test methods for trolleybuses
GBT 18384.3-2015 Safety Requirements
for Electric Vehicles
Personnel Protection against Electric Shock
More Electric Bus Air Conditioner Cases
PS: OEM project for other length EV bus is available!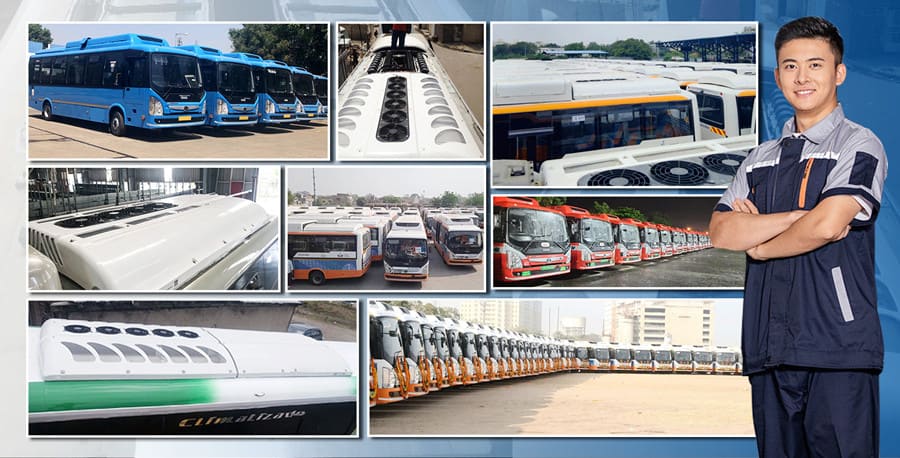 Click for More Cases (Load HD Pictures, Wait Patiently)
Welcome to be Our Customers / Partners / Dealers:
You will get the following benefits.
1. Longer lifespan: more than 30% longer than low-end air conditioners
2. More stable operation: 45 degree outdoor temperature still stable operation
3. Factory sourced pricing
4. Customized OEM service
5. (Click to learn more benefits)
Click to see more customer visit
About TKT HVAC
The leading commercial vehicle air conditioner manufacturer in China! TKT has a team of 135 engineers including design engineers, structural engineers, electrical engineers, test engineers, EMI/EMC engineers, and after-sales engineers, and has complete design, development, and testing capabilities for vehicle air conditioners and parts. With more than 210 patents and CE, EMI/EMC certification of main products.