Heavy Equipment Battery Thermal Management keep Electric Heavy Equipment battery pack temperatures within the right range to maintain their longer driving range and extend battery life. We also call it BTMS or Battery Chiller or Battery Pack Cooling System.
Now more and more world top 500 Heavy Equipment manufacturers choose TKT BTMS system. The main reason is that the quality of the product is particularly good, which is reassuring. For example, the realization of precise temperature control (0.5°C), product lightweight, and the product has passed 10 years of market inspection and other reasons.
NOTE: This is a highly customizable part and we can make it exactly to the customer's specifications. Cooling, heating, dimensions, and more can all be customized.
OEM Case of Battery Chiller:
Over the past 10 years, TKT has designed and manufactured Battery Pack Cooling System according to the requirements of different OEM customers, such as BYD, Yutong and Golden Dragon in China, and TATA Motors in India, Daewoo in Korea and other overseas markets. The cooling capacity and heating capacity of Battery Thermal Management System(BTMS) ranges from 3-10KW according to customer's requirements, which can meet the requirements of different commercial vehicles even if the ambient temperature reaches 60 degrees C or -20 degrees C. TKT also makes roof-mounted Battery Chiller, side-mounted Battery Chiller and chassis-mounted Battery Chiller according to the requirements of different customers.
"EV Battery Thermal Management Case Study – A Customized Story for Fortune 500"  Click to read (highly recommended)
Real vehicle test, stable operation (Click on image to enlarge)
Battery Thermal Management System (or Battery Chiller)
Battery Chiller Test Report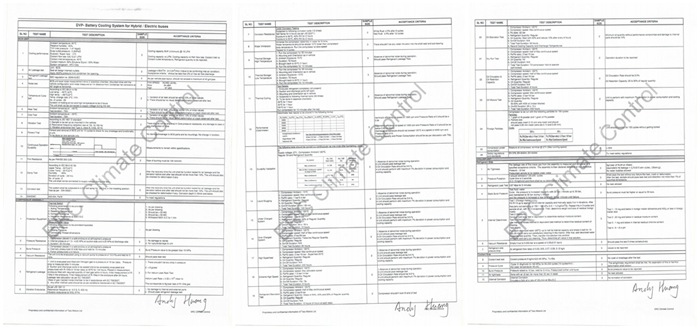 Contact us for High Resolution Images
Heavy Equipment Battery Thermal Management Related News
"Battery Cooling Focus On Truck & Bus ect. – Mature Advanced Solutions"  Click to read (highly recommended)
"Battery thermal management system customization solutions and common customization directions" Click to read
About TKT :
Professional manufacturer & supplier of vehicle air conditioning system and battery thermal management system. Both technical strength and output are in a leading position. TKT has 25 engineers with master and doctorate degrees, 480 workers with 4-8 years of assembly experience, and 85 countries to provide you with perfect after-sales service. The main products have CE, EMI/EMC certification.