What is Battery Cooling System
The operation of the battery is accompanied by the process of charging and discharging, which will generate a lot of heat. Especially during fast charging and high power discharging. A large amount of heat, if not cooled down, will render electrically powered equipment unable to function properly. Therefore a device is needed to reduce the temperature of the battery during operation. Such equipment is generally called battery cooling system, also referred to as BCS or BTMS.
Runs automatically to keep battery temperature stable
Importance of Battery Cooling System
As we all know, oil is a non-renewable resource, it will become less and less in the future. At the same time, the earth's environment is getting worse and worse, and the greenhouse effect is becoming more and more obvious. Therefore, the development of pure electric vehicles, pure electric aircraft, pure electric ships and other pure electric drive equipment is the only way for future development.
Compared with the various equipment driven by the engine, the equipment driven by pure electricity will have stricter temperature requirements. This is because the optimal temperature of the battery is between 20-45 degrees. If the battery temperature exceeds this range, it will accelerate the life of the battery and equipment, accelerate corrosion damage, etc., and even cause the equipment to burn. If the battery falls below this temperature, it will result in reduced battery performance, which will eventually result in underpowered devices or reduced mileage. The development of pure electric drive equipment must solve this problem.
Custom Development of Battery Cooling System
TKT has 10 years of experience in R&D and design of BTMS, and more than 200,000 devices are in operation around the world. They are certified for real results. We provide professional customization services and can do custom development for other types of equipment. Including size, cooling capacity, voltage and current, fan direction, etc., welcome to leave a message for detailed communication.
Unique advantages of TKT Battery Cooling System
▲More than 10 years of market proof, over 200,000 units in operation worldwide, with quality and performance widely recognized worldwide.
▲Patent Design to make higher cooling/heating with less weight;
▲Bigger Coolant flow to maintain battery temperature in shortest temperature;
▲CAN Control to avoid the wrong operation to damage battery pack;
▲Adopt IP67 electric parts, such as electric compressor, water pump, connectors ect;
▲Fast OEM/Customized Design (1 month);
▲Precise Temperature Control (0.5 Deg.C);
Battery Cooling System
OEM Case:
Over the past 10 years, TKT has designed and manufactured Battery Pack Cooling System according to the requirements of different OEM customers, such as BYD, Yutong and Golden Dragon in China, and TATA Motors in India, Daewoo in Korea and other overseas markets. The cooling capacity and heating capacity of Battery Thermal Management System(BTMS) ranges from 3-10KW according to customer's requirements, which can meet the requirements of different commercial vehicles even if the ambient temperature reaches 60 degrees C or -20 degrees C. TKT also makes roof-mounted Battery Chiller, side-mounted Battery Chiller and chassis-mounted Battery Chiller according to the requirements of different customers.
"EV Battery Thermal Management Case Study – A Customized Story for Fortune 500"  Click to read (highly recommended)
Customized models (Click on image to enlarge)
Real vehicle test, stable operation
Battery Thermal Management System Test Report:
Contact us for High Resolution Images

About TKT
TKT HVAC was established in 1998, with 25 engineers with master and PhD degrees, 480 workers with 4-8 years of assembly experience, and 85 countries to provide you with perfect after-sales service. more than 210 patents and CE, EMI/EMC certifications for major products.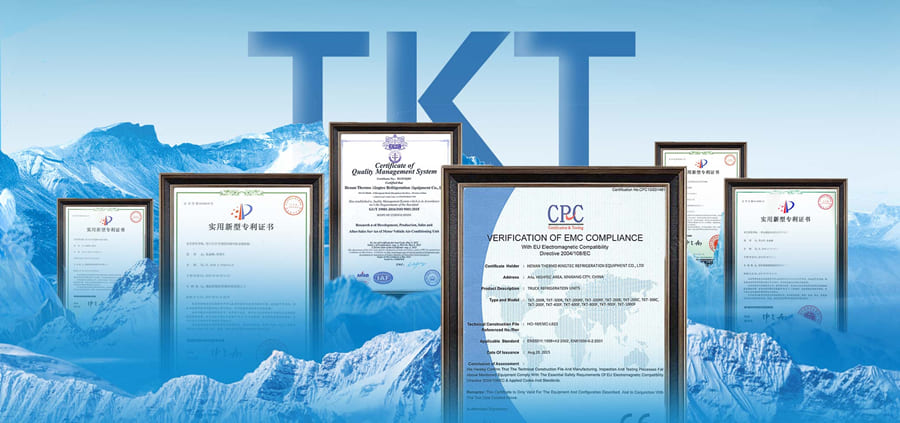 Become Our Customers / Partners / Dealers Now: