TKT DC Fast Commercial EV Charging Station Overview
We have a wealth of fast charging station solutions for electric vehicles, with charging power ranging from 60kw to 200kw, and the number of plugs is 2, 3, or even more. Support CCS1/CCS2/CHAdeMO Standard. This is enough to meet the needs of different regions, different prices, and different scenarios.

We have formed long-term and stable cooperative relations with well-known Chinese enterprises such as Yutong Bus, Zhongtong Bus, BYD Automobile, and Ningde Times. In the international market, we have formed long-term and stable cooperation with Taiwan Yuandian Technology, Turkey Lumhouse, India Tata, India BYD, etc.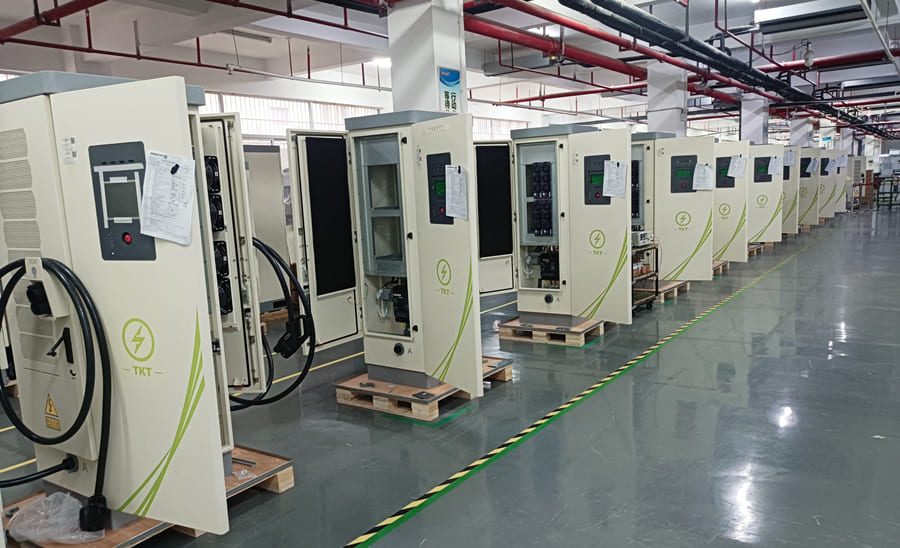 Please feel free to leave a message Email:md@tkt-hvac.com and let our experts provide you with expert advice.
Cases of application scenarios for EV charging stations
1. Charging solutions for large fleets
Common types include public transport, transportation and logistics industries. We have undertaken electric bus charging station in the USA, bus charging station in Canada, taxi car charging station in Australia, electric truck charging station in the UK, etc. Our DC charging station solution has increased the frequency of vehicle trips by more than 20%.

Click to view more high-definition cases
2. Charging Solutions for All Commercial Locations
With the popularity of electric vehicles, more and more business premises are in need of Commercial EV Charging Station. For example, Office buildings charging stations, parking lot ev charging stations, ev charging stations for hotels, shopping mall charging station, gas station charger, etc. We have exported to more than 40 countries and regions including Thailand, India, Malaysia, Mexico, Germany, and France.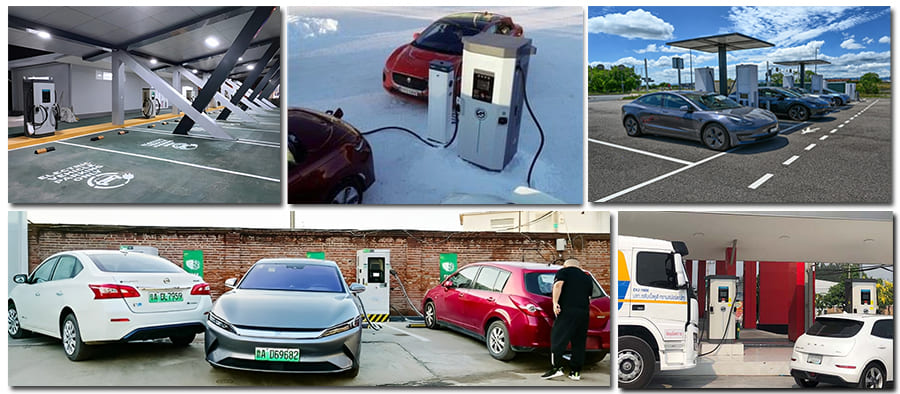 Click to view more high-definition cases
TKT DC Fast EV Chargers Advantages
1. Multi-Protection – safety above all else
For personal safety: anti-electricity of the shell, plug insulation detection, leakage protection, control module self-test function, power off immediately when the cable falls off, etc.
For vehicle safety: overvoltage protection, undervoltage protection, overcurrent protection, short circuit protection,  Battery anti-reverse connection, BMS independent security protection, etc.
For product safety: High quality military grade components. IP55 protection level, Anti-rain and snow, dust, rust and so on. Real-time detection of security protection, alarm feedback, flame retardant, etc.
2. Modular Design
Easy to upgrade: With technological progress or changes in charging power requirements, each module of the charging pile can be directly upgraded to meet new changes. Can save costs.
Easy maintenance and repair: Perfect troubleshooting system, quickly find problematic modules, and replace modules independently. This saves maintenance costs and reduces technician requirements.

3. Fast Charging
The time saved can increase the number of bus and truck trips; it can increase the number of paid charging of EV. Faster charging speeds bring higher profit margins and convenience.
In order to feel the charging speed more intuitively. I made the form. I will use 65kwh as an example. (If you can't calculate, our experts can help, please contact the experts)
Electric Vehicle Battery Capacity
Charging Speed
Total Time to Fully Charge
Average Miles Gained Per Hour
65kwh
Level 1 speed: 3kw
21.67h
10.5mi / 16.8km
Level 2 speed: 7kw
9.29h
24.5mi / 39.2km
Level 2 speed: 11kw
5.91h
38.5mi / 61.6km
Level 2 speed: 22kw
2.95h
77mi / 123.2km
Level 3 speed: 180kw

22min
630mi / 1008km

4. Dynamic Load Balancing
Through real-time monitoring, the reasonable distribution and balanced utilization of electric energy among multiple charging piles can be realized to improve charging efficiency, charging pile utilization rate and stability.
5. Simple and Practical Management System
User terminal: color LCD touch screen, supports multiple languages, simple design close to the owner's use. Multiple payment methods are supported.
Management side: intelligent management, remote monitoring, fast and convenient. Various statistics are clear. Easily connects to any OCPP-based backend.

6. Hundreds of Patents – Support Full Customization
As a leading charging pile manufacturer, it has more than 10 years of technology accumulation, more than 100 patents, supports OEM&ODM, provides white label, customized management system, etc.
TKT DC Fast Commercial EV Charging Station Specification Table
Please feel free to leave a message Email:md@tkt-hvac.com and let our experts provide you with expert advice. We support OEM customisation.
Scroll right to view the full content on mobile.
Power (KW)
60
90
120
150
180
200
Input Voltage
3-Phase 380V-600V AC
Working Frequency
45-65Hz
Charging Interface
CCS1 / CCS2 / CHAdeMO / GBT
(*2 or *3 optional)
Power Factor
≥0.99
Efficiency
≥94%
Screen Size
8" LCD Touchscreen
(Maximum brightness above 800nit)
Support Language
Chinese, English, French, German, Spanish, Russian, etc.
(support customization)
Payment
Mobile APP / RFID / POS
Network Connection
4G, Ethernet
Communication Protocols
OCPP1.6J or OCPP2.0
Charging Cable Length
5m / 7.5m / 10m optional
Working Temperature
-30°C – +50°C
IP Class
IP55 (overvoltage protection, undervoltage protection, overcurrent protection, short circuit protection, BMS independent security protection, etc.)
High Specification Materials
G60 corrosion-resistant hot-dip galvanized sheet and thickened aluminum-zinc coated sheet
Double-layer anti-corrosion spraying process, in line with QUALICOAT CLASS 1 standard
Three-layer Air Filter
stainless steel filter, louver filter, G4 grade dust filter cotton (flame retardant)
Certificate
ISO9001, IATF16949, TUV, CE, IEC61851-1,IEC 62196-2
If you need other more detailed technical parameters of the product, please contact us. Leave a message Email:md@tkt-hvac.com