OVERVIEW
The Battery Show India 2023 was a great event and has now come to a successful conclusion, where TKT focused on the Battery Liquid Cooling System. This system is an integral important part of commercial electric vehicles. We offer a wide range of solutions to assist in the development of commercial electric vehicles.

Battery Cooling System Field Operation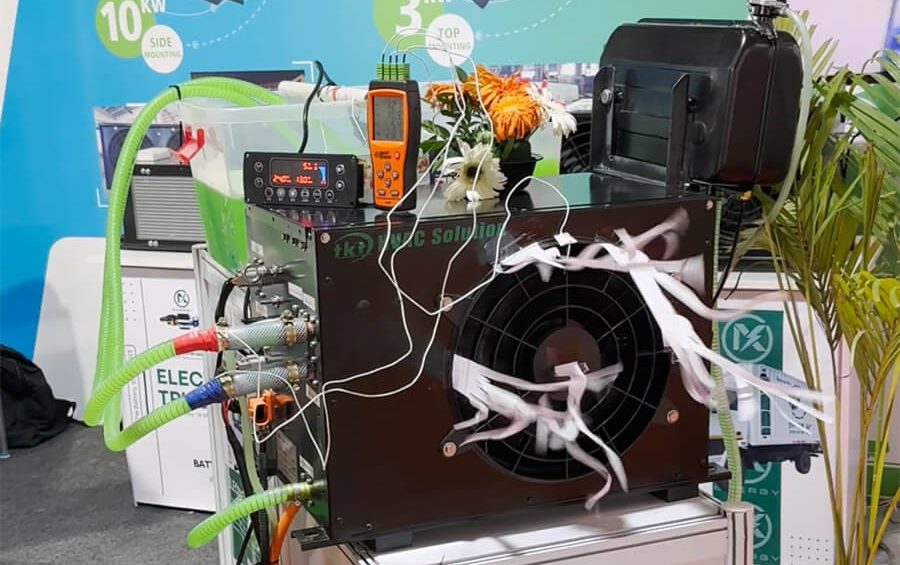 On the show floor, TKT brought the popular mass production model of battery liquid cooling system. In order for attendees to better understand the product, TKT was on hand to demonstrate the operating results. Along with the demonstration TKT added a four-channel thermocouple thermometer in order to present the cooling effect. In addition, please see the paper strip at the outlet of the fan, the strong wind can take away more heat in order to achieve the effect of quickly reducing the temperature of the battery.
In addition, TKT has prepared a TV set. Attendees can have a more comprehensive understanding of our R&D and manufacturing strength through the 3D demonstration diagrams and cooperation cases that are played in a loop.
Battery Cooling System Consultancy
Many battery experts stopped by our booth at the exhibition. They had a detailed conversation with the experts from our India team. Our India team introduced our product advantages and usage scenarios to these battery experts in detail. For example, we support customisation of size and performance, automated temperature control, precise temperature control (0.5°C), and our products have passed 10 years of market testing.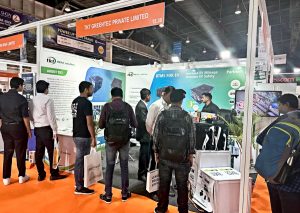 Click on the image to enlarge
Strong Co-operative Customers
TKT has over 10 years of experience in the design and manufacture of battery liquid cooling systems. Years of technological precipitation and strength have allowed us to work with many of the world's leading vehicle manufacturers. For example, BYD, Tata, Marcopolo, Daewoo, Switch Mobility and many more.
We are an ISO 9001:2015 and IATF 16949:2016 certified factory with hundreds of patented technologies, and CE, EMI/EMC certifications.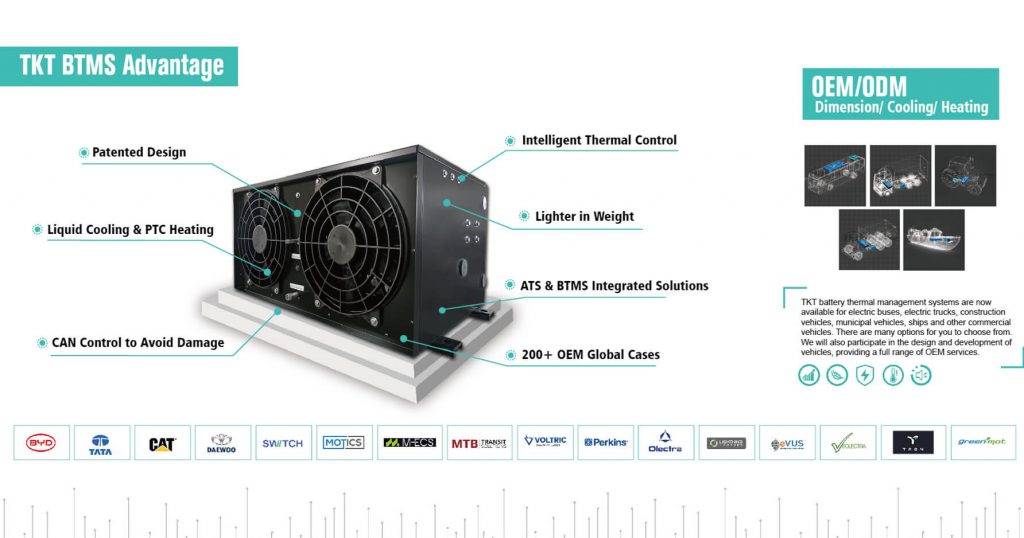 EV Battery Thermal Management Case – Customized for Fortune 500
(Click to read)
More Battery Thermal Management System Model
Email:md@tkt-hvac.com. Recommend the best solution for you!

Product Model
Application
Cooling
Capacity
Customized
10R/10CW for EB
Learn more
11-12M Electric
Bus BTMS
(DC240V-DC750V)
Cooling: 8-10KW
Heating: 6-10KW (Optional)
Dimension/
Cooling/
Heating
5R/5CW for EB
Learn more
8-10M Electric
Bus BTMS
(DC240V-DC750V)
Cooling: 5-6KW
Heating: 3KW (Optional)
Dimension/
Cooling/
Heating
3R/3CW for EB
Learn more
6-7M Electric
Bus BTMS
(DC240V-DC750V)
Cooling: 3-4KW
Heating: 1-2KW (Optional)
Dimension/
Cooling/
Heating
5CW for ET
Learn more
Electric
Truck BTMS
(DC240V-DC750V)
Cooling: 5-6KW
Heating: 3KW (Optional)
Dimension/
Cooling/
Heating
3R for EHE
Learn more
Electric
Heavy Equipment BTMS
(DC240V-DC750V)
Cooling: 3-4KW
Heating: 1-2KW (Optional)
Dimension/
Cooling/
Heating
3CW for EHE
Learn more
Electric
Heavy Equipment BTMS
(DC240V-DC750V)
Cooling: 3-4KW
Heating: 1-2KW (Optional)
Dimension/
Cooling/
Heating