Transport Refrigeration Unit Manufacturers Visit Overview
Last week, TKT, transport refrigeration unit manufacturers, welcomed two very important Chinese-American customers. Our professional consultants took them on a tour of multiple product lines within the factory. Including box truck refrigeration unit, truck air conditioners, electric truck BTMS, etc.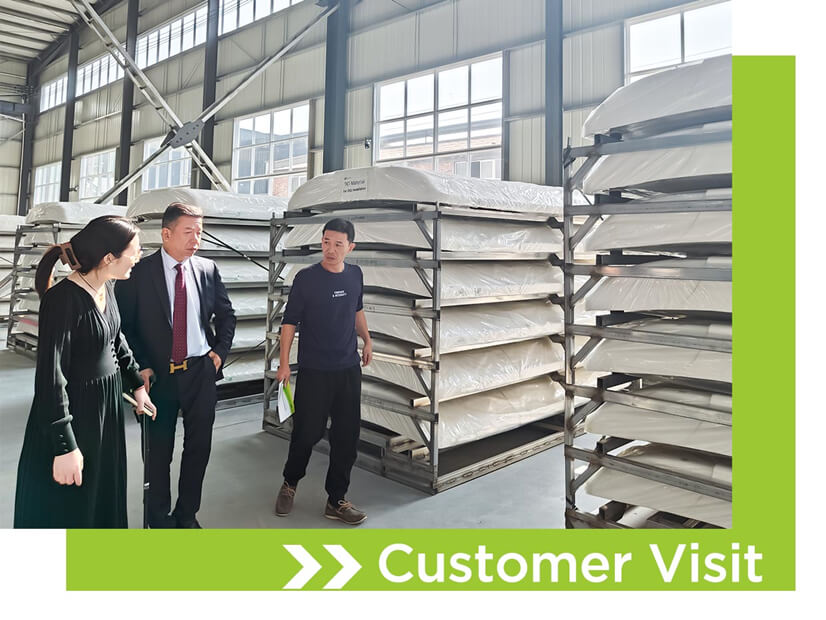 Customer Visit - Transport Refrigeration Unit Manufacturers
This is the most important purpose of the customer's trip. Take a first-hand look at our box truck refrigeration unit. The one shown in the picture is 400F, which is mainly used for small and medium-sized truck transportation. It can ensure that the cabinet of 7-12 cubic meters is kept at minus 20 degrees. This box truck refrigeration unit is powered by a truck engine, and the compressor used is Jap SD5S14 (138cc). Its installation method is front-mounted, the evaporator size is 1006*590*188 mm, and the condenser size is 1050*470*310 mm.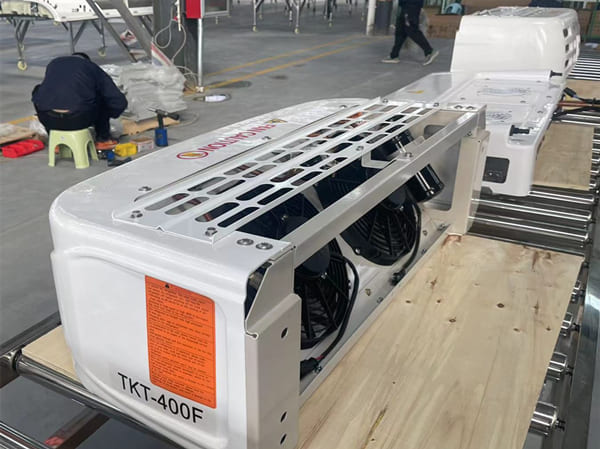 TKT Box Truck Refrigeration Unit Core features:
1. The core components adopt world-famous brands: ensuring the cooling effect while reducing costs.
2. Condenser/evaporator with all copper tubes and aluminum fins: corrosion-resistant, with a service life of more than ten years.
3. Green and environmentally friendly: using ozone-friendly refrigerants R134A and R404A.
4. European and American high standard certification: CE, RHS and other certificates.
As a leading transport refrigeration unit manufacturers, TKT's products can meet the needs of most customers in the market. If there is big quantity of orders, we provide customized services.
In terms of driving methods, our products include electric drive, engine drive, and independent engine drive. In terms of box volume, ranging from 3 cubic meters to 50 cubic meters, they can meet the cooling requirements of minus 20 degrees.
Welcome to leave a message to request the PDF document of the box truck refrigeration unit product. md@tkt-hvac.com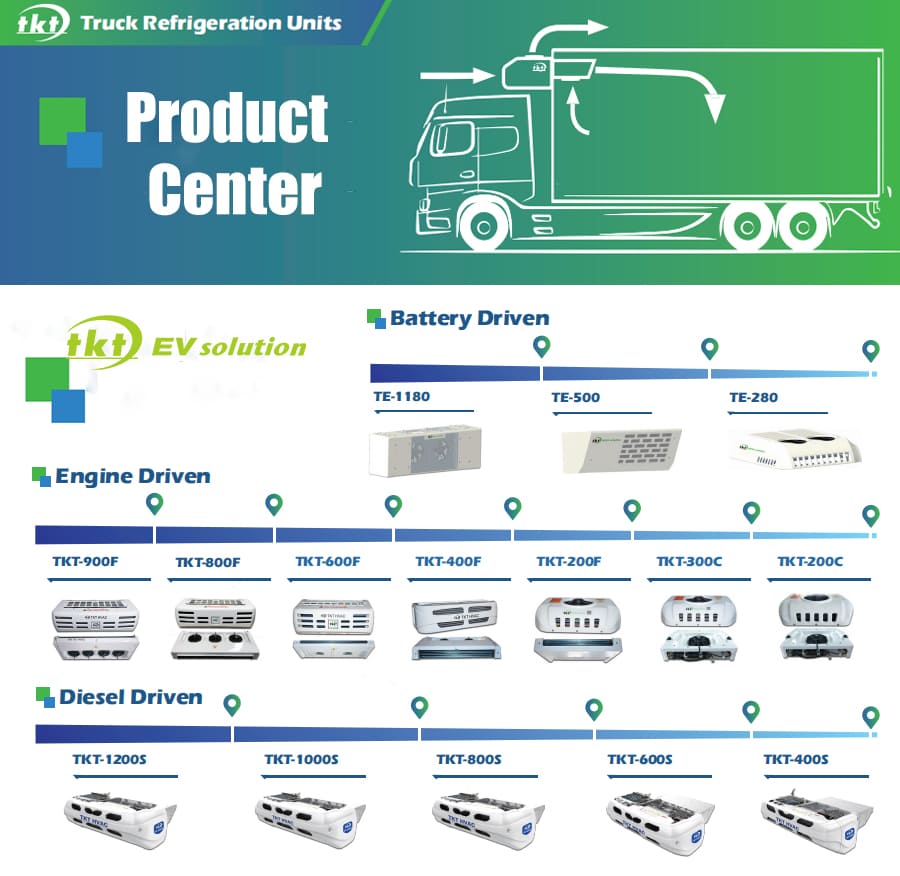 Customer Visit – Electric Truck Battery Cooling
What is electric truck battery cooling?
The electric truck battery thermal management system is a thermal management solution for electric truck battery. It is one of the key technologies to ensure the performance, safety and life of power batteries. The main function of this system is to cool down the battery when the temperature is high to prevent thermal runaway accidents. Preheat when the battery temperature is low to increase the battery temperature to ensure charging and discharging performance and safety at low temperatures. In addition, it must reduce the temperature difference within the battery pack, inhibit the formation of local hot zones, prevent the battery from decaying too quickly at high temperature locations, and reduce the overall life of the battery pack.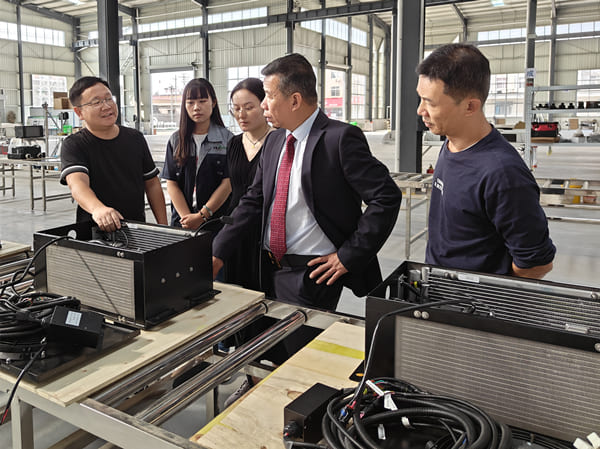 Mainstream refrigeration method: battery liquid cooling
Battery liquid cooling uses coolant to remove the heat generated by the battery out of the battery system. Specifically, the liquid cooling method mainly uses coolant to cool down the battery system. After the low-temperature coolant flows through the battery pack or cooling plate to exchange heat with it, it then flows back to the heat exchanger to exchange heat with the low-temperature refrigerant, thereby generating heat from the battery. The heat is brought out of the battery system.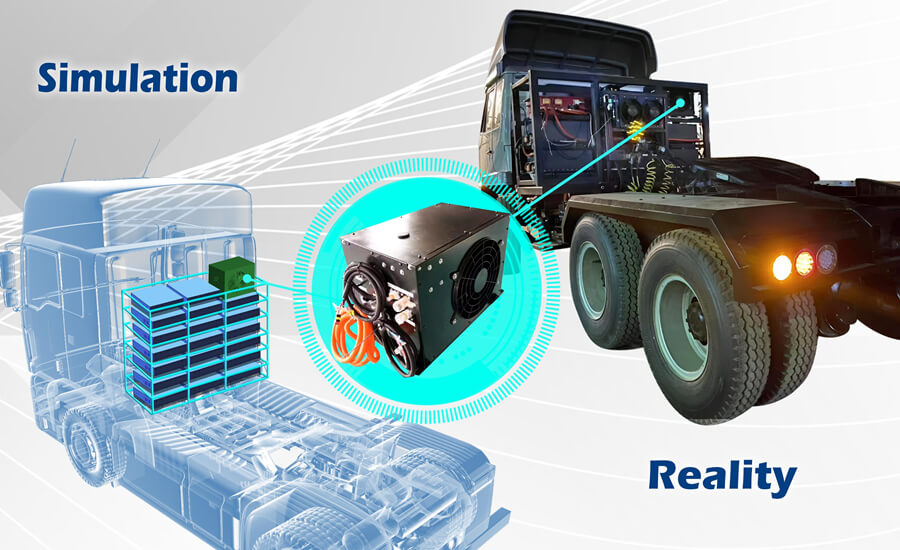 Advantages of TKT battery thermal management system
TKT has accumulated 10 years of development and manufacturing experience in the field of electric truck battery cooling, and its product quality is outstanding. We have customized and developed BTMS systems for world-famous vehicle manufacturers BYD, TATA, daewoo, Switch mobility, etc. The BTMS customized for TATA, a Fortune 500 company, has been in actual operation for more than 5 years. The high-quality product performance and longevity have been highly praised. Therefore, this year we gained another customization cooperation with TATA for new models. Please click to view details.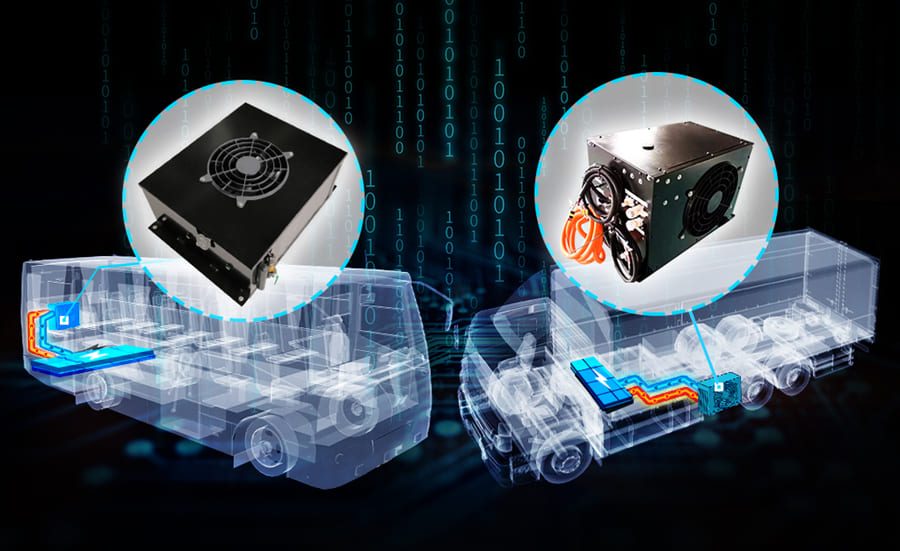 Customer Visit - Truck Air Conditioner Suppliers
Both of these American customer service users are trucking professionals. Therefore, they are also very interested in truck air conditioners. Our professional salesmen are with you every step of the way. And open the machine casing and explain it carefully.
Customers study carefully, carefully observe the details and workmanship, and often take out their mobile phones to take pictures. In communicating with them, they expressed their appreciation for the product.
TKT is a leading suppliers of truck air conditioners. Our products are mainly electric air conditioners and use environmentally friendly refrigerants. TKT has always advocated sustainable development, and the CEO hopes to work hard to make the world more green.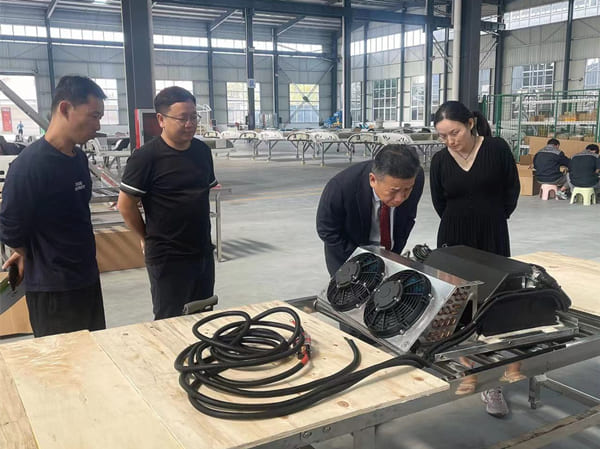 Advantages of TKT Truck Air Conditioner Suppliers
1. Patented core: TKT independently developed core technology, optimized the copper tube process, reduced the gap by 16%, increased the number of copper tubes, and enhanced heat exchange efficiency.
2. Copper tube core: high quality, long life and strong corrosion resistance.
3. Double-fan model with a cooling capacity of up to 5kw, which can meet the harsh environment of T3.