RV Split Air Conditioner Overview
TKT-50ES is an electric/battery-powered A/C that is designed for extreme heat (Customized for T3 Climate), providing driver comfort when the engine is off, consuming no fuel and producing no emissions.
As an expert and leading manufacturer of RV A/C in China, TKT has been supplied to MAXUS Datong, Hubei Chengli, Yangzhou Saide, Jiangsu Famei Rui, ADRIA ect main vehicle manufacturer in China, and also do OEM to TATA Motor, TATA Marcopolo, Ford, Isuzu, Carryboy ect vehicle manufacturer in the world. Those rich experience and over 20 years of market verification prove that TKT air conditioner is trustworthy.
TKT RV Air Conditioners Exclusive Advantages
1. Exclusive design of condenser coil structure with design patent.
2. Certified to various high standards in USA and Europe.
3. Meet the cooling requirements in extremely hot places.
4. Low noise and vibration.
5. Small size and light weight.
6.10-15 Years System Life Time.
Click for detailed information
50ES Specification Table
Model No.
TKT-50ES
Structure
Split Model
Cooling Capacity
5000 W/17050 BTU
Compressor
Electrical Compressor 26cc
Voltage
DC12 V/24 V
Standard total current
DC12 V/90 A; DC24 V/45 A
Condenser
QTY of Condenser Fan, 1 PCs
Condenser Air Flow, 1500 m³/h
Evaporator
QTY of Evaporator Blower, 1 PC
Evaporator Air Flow, 1000 m³/h
Refrigerant
R134A, 600g
Dimension of Roof Top Unit
728*522*200 mm (L*W*H)
Application
RV AC, Truck AC, Caravan AC, Van AC, Tractor AC, Heavy Equipment AC, Houseboat AC, etc
RV Split Air Conditioner Cases
We have experienced sales staff who will recommend the most suitable product for your caravan. In addition, we accept OEM custom requirements.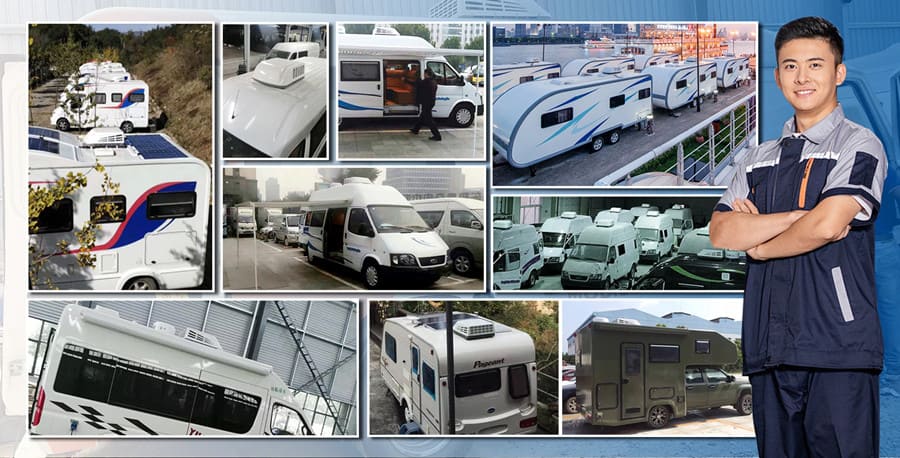 Click for More Cases (Load HD Pictures, Wait Patiently)
About TKT HVAC
The leading commercial vehicle air conditioner manufacturer in China! With 25 engineers with master and PhD degrees, 480 workers with 4-8 years of assembly experience, and 85 countries to provide you with perfect after-sales service. Over 210 patents and CE, EMI/EMC certifications for major products.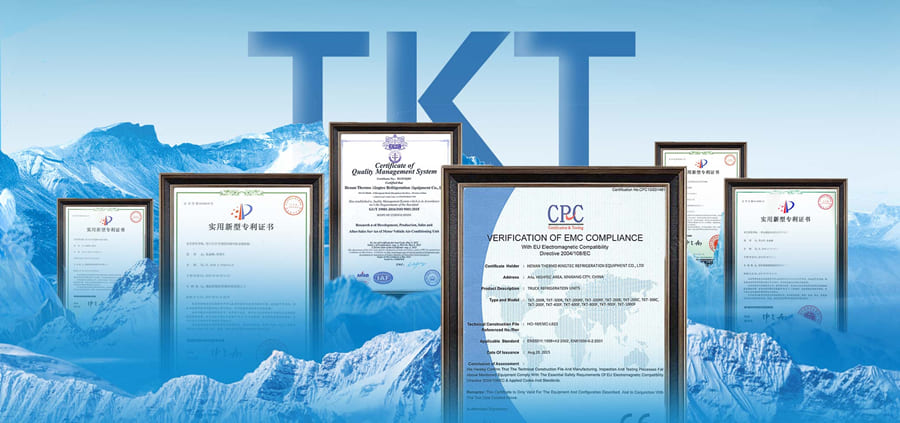 Learn More About TKT and Certifications
Welcome to be Our Customers / Partners / Dealers:
You will get the following benefits.
1. Longer lifespan: more than 30% longer than low-end air conditioners
2. More stable operation: 45 degree outdoor temperature still stable operation
3. Factory sourced pricing
4. Customized OEM service
5. (Click to learn more)