Overview
This article focuses on TKT HVAC 12v semi trucks air conditioner. It will be shown fully from the inside to the outside, with videos and pictures. Detailed parameters will also be included. Welcome to browse carefully.
Air Conditioner for Semi Trucks
The semi trucks air conditioner in this article is an electric air conditioner with an output voltage of 12V. We also have 24v, 48v and other options for this air conditioner. This air conditioner has a maximum cooling capacity of 17050 BTU and is specially designed for hot regions such as the Middle East. It is also a kind of parking air conditioner. It provides comfort to the driver when the engine is turned off. It does not consume gasoline (diesel) and does not produce exhaust gas, which not only saves fuel costs, but is also very good for the environment.
In addition to trucks, this air conditioner can be used in trucks, RVs, yachts, heavy machinery, and agricultural machinery.
We pay special attention to quality, and durable and good air conditioners are our tenet. For example, our cores are all designed with copper tubes and aluminum fins, which is more durable and longer life than the common parallel flow in the market. Such a core can reduce after-sales problems.
Click on the picture to enlarge
Air Conditioner for Semi Trucks Specification Table
Model No.
TKT-50ES
Structure
Split Model
Cooling Capacity
5000 W/17050 BTU
Compressor
Electrical Compressor 26cc
Voltage
DC12 V/24 V
Standard total current
DC12 V/90 A; DC24 V/45 A
Condenser
QTY of Condenser Fan, 1 PCs
Condenser Air Flow, 1500 m³/h
Evaporator
QTY of Evaporator Blower, 1 PC
Evaporator Air Flow, 1000 m³/h
Refrigerant
R134A, 600g
Dimension of Roof Top Unit
728*522*200 mm (L*W*H)
Application
Truck cab, trailer, caravan, farming machine, construction machine, caravan, etc
Semi Trucks AC Cases
During the passed 24 years, TKT grows to the 100% OEM choice in China, for truck A/C, such as CIMC, Xinfei, Hongyu ect. For the international market, TKT is the OEM for TATA Motors (Fortune 500 Company) , TATA Marcopolo Motors, Daewoo ect, and exported to more than 85 countries with sales and service center.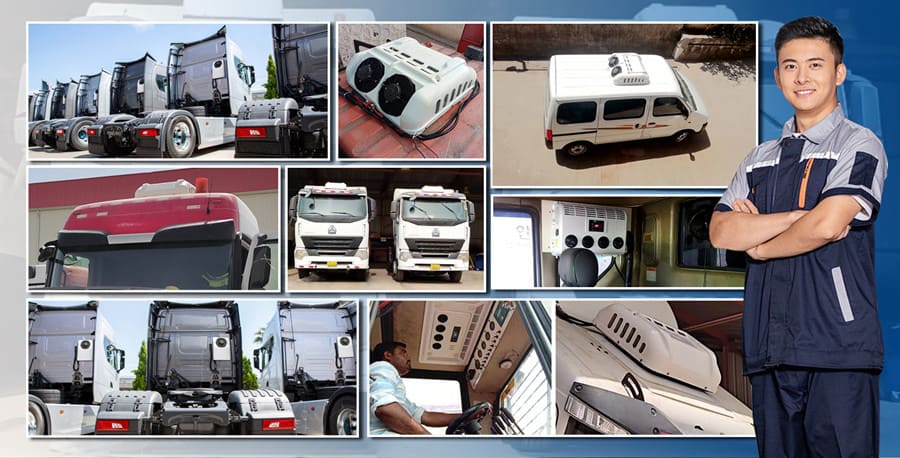 Truck Cabin Air Conditioners Design Advantages
Click to learn more about design details
Inquire Now
Welcome to learn more about specific product parameters and more cases, please click here.
You can also leave your information directly and wait for our professional sales to contact you.
or Email: md@tkt-hvac.com