Universal Solution for Cab Air Conditioner
The TKT-50ER/50ES is an electric/battery powered air conditioner that is designed for extreme heat (Customized for T3 Climate), providing driver comfort when the engine is off, consuming no fuel and producing no emissions, so it is also called parking air conditioner.
It is mainly suitable for vehicles such as Truck, Van, Tractor, Mining Machine, Motor Home, Caravan, Houseboat, etc.

TKT HVAC Truck Air Conditioner Exclusive Advantages
1. Exclusive patented design of condenser coil structure, known as the "highest heat exchange efficiency" design in China.
2. Zero CO2 emission and zero fuel consumption help drivers to reduce cost.
3. Higher cooling degree to meet the cooling requirements of extremely hot areas.
4. Longer life with high quality copper tubes and aluminum fins.
5. Easy installation, save a lot of installation cost.
6. 18 months free warranty for the whole machine.
50ER (Image click to enlarge)
50ES (Image click to enlarge)
50ER/50ES Specification Table
Model No.
TKT-50ER (Learn More)
TKT-50ES (Learn More)
Structure
Roof Top Model
Split Model
Cooling Capacity
5000W / 17000 BTU
5000W / 17000 BTU
Compressor
Electrical Compressor 26cc
Electrical Compressor 26cc
Voltage
DC12V/24V
DC12V/24V
Standard total current
DC12V/90A; DC24V/45A
DC12V/90A; DC24V/45A
Condenser
QTY of Condenser Fan, 2 PCs
QTY of Condenser Fan, 1 PCs
Condenser Air Flow, 2000m³/h
Condenser Air Flow, 1500Mm³/h
Evaporator
QTY of Evaporator Blower, 1 PC
QTY of Evaporator Blower, 1 PC
Evaporator Air Flow, 1000m³/h
Evaporator Air Flow, 1000m³/h
Refrigerant
R134A, 600g
R134A, 600g
Dimension
700*750*205mm (L*W*H)
728*522*200mm (L*W*H)
Application
Truck cab, trailer, caravan, farming machine, construction machine, caravan, etc
Established in 1998, TKT is the leading manufacturer of commercial vehicle air conditioners in China! With 25 engineers with master and doctorate degrees, 480 workers with 4-8 years of assembly experience, and 85 countries to provide you with perfect after-sales service. With more than 210 patents and CE, EMI/EMC certifications for major products.
More
Truck Air Conditioner Case
During the passed 24 years, TKT grows to the 100% OEM choice in China, for truck A/C, such as CIMC, Xinfei, Hongyu ect. For the international market, TKT is the OEM for TATA Motors (Fortune 500 Company) , TATA Marcopolo Motors, Daewoo ect, and exported to more than 85 countries with sales and service center.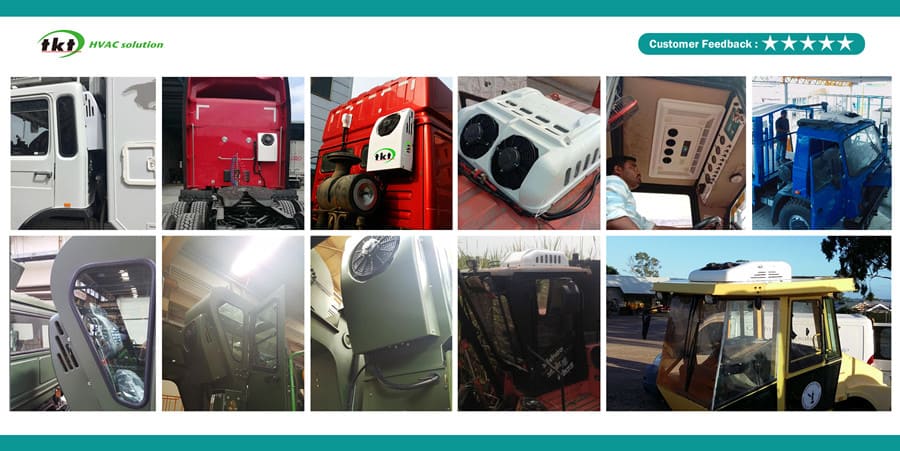 Become our Customers / Partners / Dealers Now:
You will get the following benefits.
1. Longer lifespan: more than 30% longer than low-end air conditioners
2. More stable operation: 45 degree outdoor temperature still stable operation
3. Factory sourced pricing
4. Customized OEM service
5. (Click to learn more)