Diesel Truck Air Conditioner Overview
TKT-40T&60T is engine driven air conditioner is specially designed for truck cabs and construction machinery. It is driven by the vehicle's engine. They are known for their excellent and reliable performance, streamlined design and fair price. It is widely used in South America, Europe, Australia and Asia for truck cabs, trailers, forklifts, cranes and other heavy machinery.
As an expert and leading manufacturer of Truck A/C in China, TKT has been supplied to CNHTC, DAYUN, DONGWO, Feihua, Foton ect main vehicle manufacturer in China, and also do OEM to TATA Motor, TATA Marcopolo, Daewoo, Isuzu, MAZ ect vehicle manufacturer in the world. Those rich experience and over 20 years of market verification prove that TKT air conditioner is trustworthy.
Engine Driven Truck Air Conditioner Features
1. Inner Screw Copper Tube & Aluminum Fin Design;
2. Big Cooling Capacity, Applicated Widely in Every Hot Place in the World;
3. Easy Installation & Operation;
4. ISO 9001, CE & TS16949 Certification;
5. 18 Months Warranty Time After Delivery;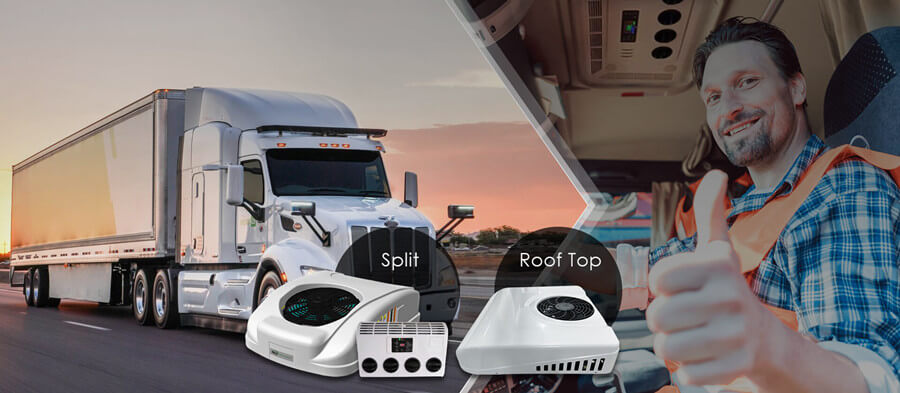 Specification Table
Model No.
TKT-60T
TKT-40T
Structure
Roof Top Model
Cooling Capacity
6 KW / 20460 BTU
4 KW / 13640 BTU
Compressor
JAP SD5S14/ 5H14 Made in China
DY5H14/ SANDEN5S14
Voltage
DC12 V/DC24 V
DC12 V/DC24 V
Power Consumption
Less than 0.33 KW
Less than 0.25 KW
Condenser
QTY of Condenser Fan
2 PCs
QTY of Condenser Fan
1 PC
Condenser Coil Type
Copper Tube & Aluminum Fin
Condenser Coil Type
Copper Tube & Aluminum Fin
Condenser Air Flow
1210 m³/h
Condenser Air Flow
610 m³/h
Evaporator
QTY of Evaporator Blower
1 PC
QTY of Evaporator Blower
1 PC
Evaporator Coil Type
Copper Tube & Aluminum Fin
Evaporator Coil Type
Copper Tube & Aluminum Fin
Evaporator Air Flow
750 m³/h
Evaporator Air Flow
750 m³/h
Refrigerant
R134A, 1.1KG
R134A, 0.9KG
Dimension of Roof Top Unit
745X780X160 MM
751X681X196 MM
Weight for Roof Top Unit
42 KG
32 KG
Application
Truck Cab, Trailer, Tractor, Forklift, Farming Machine and Engineer Machine
Truck Air Conditioner Cases
We have experienced sales staff who will recommend the most suitable product for your truck. In addition, we accept OEM custom requirements.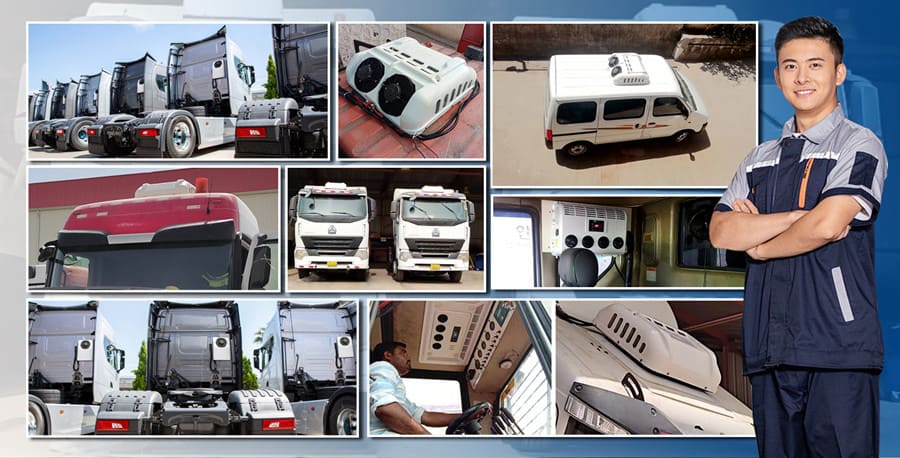 Click for More Cases (Load HD Pictures, Wait Patiently)
Welcome to be Our Customers / Partners / Dealers:
You will get the following benefits.
1. Longer lifespan: more than 30% longer than low-end air conditioners
2. More stable operation: 45 degree outdoor temperature still stable operation
3. Factory sourced pricing
4. Customized OEM service
5. (Click to learn more benefits)
Click to see more customer visit
About TKT HVAC
The leading commercial vehicle air conditioner manufacturer in China! With 25 engineers with master and PhD degrees, 480 workers with 4-8 years of assembly experience, and 85 countries to provide you with perfect after-sales service. Over 210 patents and CE, EMI/EMC certifications for major products.